Third year Computer Engineering student at UTC, looking for a 6-month internship (Febr. 13th to July 18th, 2014) in Knowledge Engineering and Information Systems, oriented in Project Management & Client
Contact
14 rue James Linard
78220 VIROFLAY FRANCE
+33 (0) 6 62 28 39 94
Education
2011 - 2014
UTC (Université de Technologie de Compiègne) – Compiègne, France
Enrolled in the Computer Engineering track
Specialist ICSI (Knowledge Engineering and Information Systems)
UTC (Université de Technologie de Compiègne)

Keywords
Computers, Teamwork, Multi-cultural, Independence, Generalist, Adaptation
Presentation
UTC is a "five years engineering school".
The first two years are the same for all the students. I directly arrived in third year, and I have chosen the Computer Engineering track.
At UTC, each student can choose which courses he will study during the semester. It's a great opportunity to build our own cursus, in appropriateness with our wills and interests. It's also a way to develop our independence, and our capacity to work with students who do not have exactly the same knowledge than ourselves.
At UTC, we also have the possibility to meet students from different countries. It's something very important for me, and most of the time, I try to be in teamwork multi-cultural (for one of my courses, I was working with 4 others student: 2 Chinese, 1 Moroccan and 1 Tunisian. I was the only one European...).
Something important is that we are "generalist". Especially in the "Computer track", we do not learn languages (which quickly disappear), but the concepts behind them. For example, I have studied Object Oriented Programation, and C++ was only the language I have learnt in order to apply the concepts. But I can now quickly adapt myself to any kind of OOP language. We are adaptable.
Ranking
2009 - 2011
ISEP (Institut Supérieur d'Electronique de Paris) – Paris, France
MPSI/PSI: mathematics, physics and engineering sciences.
3rd/40 at the end of the first year; 1st/40 at the end of the second year.
Moved to the UTC thanks to my school records
ISEP (Institut Supérieur d'Electronique de Paris)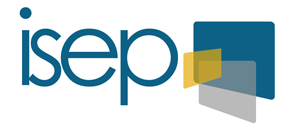 Keywords
Mathematics, Physics, Engineering Science, Ability to Hard Working, Successful
Presentation
ISEP is a "post bac school with integrated preparatory school".
It's a five years engineering school, with the two first years following the same schema as the CPGE ("Classe préparatoires au Grandes Ecoles", wikipédia) MPSI/PSI: during 2 years, I've dedicated my days and weekends to the Mathematics (M), Physics (P), and Engineering Science ("Sciences l'Ingénieur", SI).
Even if ISEP is an "integrated preparatory school", I have got at ISEP the same teaching than the one dispensed in classical preparatory schools (in term of content), with professors who work also in a well-known preparatory school: Stanislas, in Paris.
I have developed in this school my ability for hard working, from eight o'clock to midnight, almost every day. I have also had in ISEP each week 2 hours of oral questioning in Maths, Physics and Engineering Science.
Normally, with this basement in "general science" (and in English, Spanish and French), I would had to start my "engineering formation" directly with ISEP.
My great results (1st/40 at the end of the second year) gave me the opportunity to move to UTC (Université de Technologie de Compiègne), a school more in appropriateness with my needs for the engineering formation.
2009
A level, with B honour – Versailles, France
High School Diploma, with B honour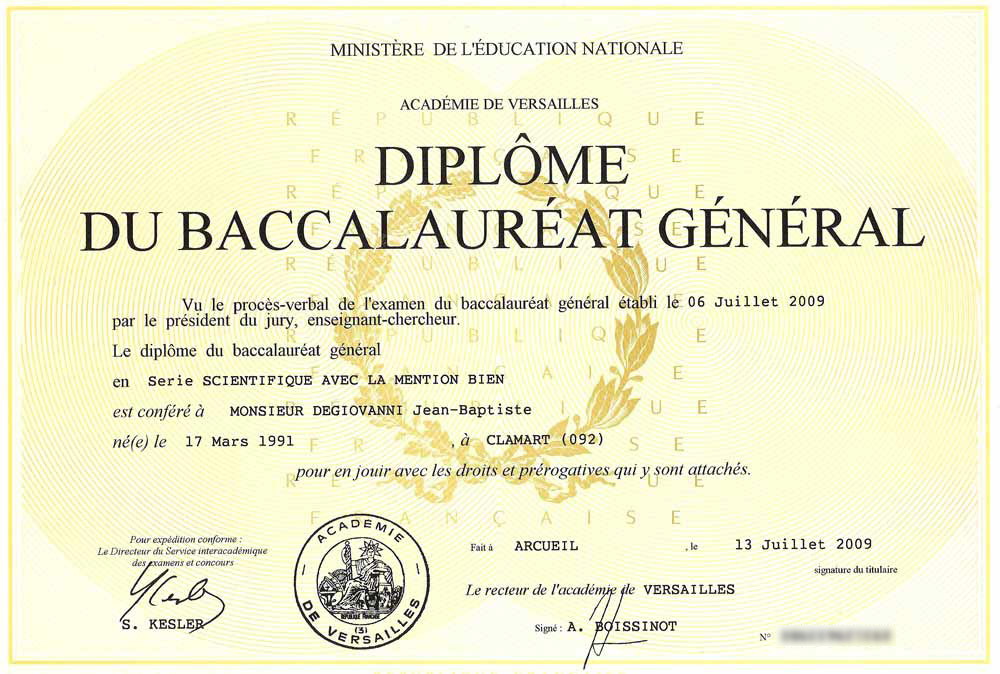 Experience
Starting | Feasibility study for an innovating product
Project for the course Innovation Management
Study to determine if a new drink (& the start-up associated) could be launched
Feasibility study for an innovating product
Context
3 Engineers with years of experience in their domain have an idea for a new kind of drink they could sell, in accordance with their ideals. It would be a completely new work, at the head of a new start-up, instead of working for their big company.
Goal
For the course "Marketing of the Innovation", I am the Project Manager of a team of 4 in charge of defining if this product has a future and can justify to start a new company. It's a real project with a big impact on our 3 clients.
The result of our work will be a justified "GO" or "NO GO".
Of course, since it's an innovative product, it is not possible to give more details about it until it has been released.
Starting | Market analysis for the CA-Store
Project for the course Project Management - Confidential - creditagricolestore.fr
Search and analysis of the market for a product of the Crédit-Agricole (French bank)
Market analysis for the CA-Store
https://www.creditagricolestore.fr/
Context
The CA-Store is part of the Crédit Agricole, a french bank.
The customers of the Crédit Agricole can propose ideas on the CA-Store for application they would like to use. Then a pool of developers can decide to develop the application. When the application is developed, it is published on the CA-Store in addition of the regular stores (Google Play, App Store, Windows Store…).
It's a win-win-win combination for the Crédit Agricole, the customers and the developers.
The CA-Store has been awarded with several prices.
Goal
For the course "Project Management", I am the Project Manager of a team of 3 in charge of studying the market to see the possibilities for the CA-Store to launch a new kind of product.
Since this project is confidential until the product has been launched, I cannot develop more.
Starting | Development of a Serious Game (risked environment)
3D Video Game (Unity) of "pipes handling in a dangerous environment" to demonstrate the modules of Artificial Intelligence and "learner monitoring" developed by the UTC Research Laboratory "Humans"
Development of a Serious Game (risked environment)
Context
The "Humans" laboratory of UTC is developing several modules for creating Serious Games aimed at learning safely on computer things that would be dangerous to learn on the real field.
They have developed a module to control the evolution of the "Game world", a module to control the Artificial Intelligence of the non-playable characters, one to take care of the scenario (of all the actions which need to be executed to realize the main objective, and in which order), one for the "learner monitoring" (remembers what the learner has done well, what has been good enough, and what must be improved), etc.
Until today, they were presented to customers thanks to different Serious Games developed with Virtools.
Today, they want to use the possibilities offered by Unity.
Goal
I've received and accepted a proposition to develop a new Serious Game running under Unity, for demonstration purpose.
This game will be based on a simplified scenario (we only want to do a demonstration of the modules, and this game is not truly aimed at teaching real things to users) from a previous demo.
We are 3 persons working on it.
Febr. to July, 2013 | Internship at Siemens, USA
6-month internship in New Jersey, at Princeton ; « Automation » department, at Siemens Corporate Research
Finalization (debug, proposition and implementation of Responsive Design & customer delivery) of the web port of the WinCC (SCADA software)
Consultant for the web port of the WinCC Graphical Editor
Extraction/adaptation of the communication Framework from the 1st project
Dev. under Android of a POC using the tel. sensors to interact with the PC
Design (UML) of an architecture for a Real-Time Synchronization Framework for multi-platform applications (synchronization of the class attributes)
Internship at Siemens, USA
I need an authorization from my supervisor at Siemens to be allowed to published details about my internship in the Research Center of Siemens.
Until then, I would be pleased to give you in person more information.
Thanks for your comprehension.
2012 | API in PHP for the Memorae project
One semester long work on the Memorae project – www.hds.utc.fr/memorae/
Development of an API to switch easily from the old Relational Database (MySQL) to the new Triplestore Database (Virtuoso)
Memorae
https://www.hds.utc.fr/memorae/working/
Keywords
Document management, Project, Triple Store, SPARQL, PHP, Independence, Initiative, Teamwork, Project Manager
Subject
The MEMORAe project gives a theoretical model which makes possible the creation of a complete organisation of document management. The key resides in the use of a semantic frame. This frame can be seen as a knowledge map where workspaces are linked together.
The goal of this project is to develop the business services which are the basis of the API used in MEMORAe. Currently using a MySQL database, those services have to be interfaced now with the triple store Virtuoso.
The API is currently used by two different graphical interfaces (one developed with the Adobe Toolkit Flex, and the other in HTML5/Javascript) and an Android application. A part of the work consists in keeping a perfect compatibility with those services.
The main part of the project will be to translate the current MySQL requests into SPARQL, taking into account the adaptation of the services around those requests. Theses services are developed in PHP et the connection to the Virtuoso database will use the same language.
The 3 students will be directly linked with all the actors of the MEMORAe project. They must demonstrate independence and initiative.
Details
I was the Project Manager for this project, of a team of 3. We were working closely with 2 students doing their Phd on Memorae, and 2 professors in charge of the project.
Interface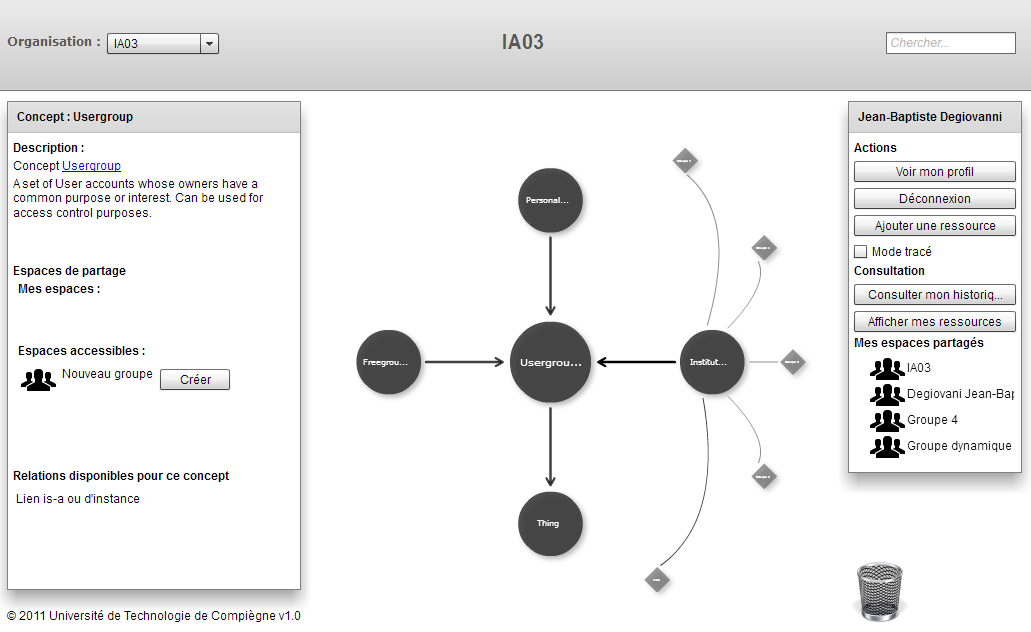 2012 | Virtual Reality Game - Equi'Jump
Development of a horse riding game, using virtual reality. - Video presentation on Youtube
This game uses captors on the hands to move the horse to right and left (with the same movement than in reality). The riding stick is emulated with a wiimote, and the horse move forward and backward thanks to a Dance Pad. Two 3D maps have been created.
Virtual Reality Game
I made this project with two others students, in our "Virtual Reality" course. Today, it is used as an example for the new students following this course.
In this game you personify a rider on a horse. You have to use your body:
if you want the horse to run, you have to quickly walk on a DDR (Dance Dance Revolution, wikipedia) carpet (dance pad).
if you want to turn, you have to use your hands exactly like when you are on a real horse. We use several infrared camera tracking which tracks your hand thanks to some white balls on it.
the immersion is crazy immersive (even if the universe is not photorealistic) thanks to a giant 3D screen (like in theatre, instead you are only 1m away from it), and thanks to head tracking which modify what you see when you move your head.
for using the horsewhip (be careful, the horse will not accept to be hurt!), we use a Wiimote.
if you want to jump with your horse, jump with your body!
To develop this game, we have used Virtools and 3DS Max.
The last thing important to know is that we have given to the horsethe ability to be angry if you use too much the horsewhip: in this case, it will not follow your instructions for a limited time (more precisely, it will add to your instructions its own desires).
You can watch below a vide presenting the game.
2011 – 2013 | Creation of a web photo gallery
Creation of a web photo gallery, for the photographer JC Pompanon – pompanon.fr
Conception, design, development (php/mysql/jquery), formation & continuous improvement
Choice of a technical solution: ftp + cron system to allow an on-line publishing of 30,000 photos in only 2 clicks (1 click for the ftp upload + 1 click for the import)
And more: referencing, cache system, deferred loading of pictures, url rewriting, share tools for social network, etc.
Photo gallery
Keywords
Long project, Alone, Management, Web, Technology, Design, Learning
Presentation
Technically, the project has started before I joined ISEP, but during my two years in preparatory school, I did not really have time for it. This explains why I announce having started it only in 2011.
It is a really formative work: I have done everything by myself, from understanding the client needs, to developing the website and adapting it to the new needs.
Technically, I have had to rewrite some part of the code after I have been at UTC and have learnt new things (for example, I moved the database from a MyISAM to InnoDB, in order to use foreign keys). This project also shows my implication in creating something working, but also pleasing to the eyes, and easy to administrate. For me, the design is really part of a product.
This project uses xHTML, CSS, PHP, MySQL and jQuery (for AJAX and animations).
The soul of the whole project was to create a photo gallery allowing the owner to upload tens of thousand photos, in only 2 clicks (the owner is not the youngest, and he has 50 years of photo to upload. His activities do not allow him to spend time for uploading it tens by tens). The main idea is the following:
the owner upload using FTP all his folders of photos (even if his internet line shutdown temporarily, what has been uploaded his still uploaded, thanks to FTP).
when all the photos and folders are online (this is very long, but do not need attention from the owner), the owner just goes into the administration panel and does 1 click to finish the importation.
the website scans the folders uploaded, creates the albums, creates the miniatures and the different versions of the photos.
Mission accomplished!
Visitor interface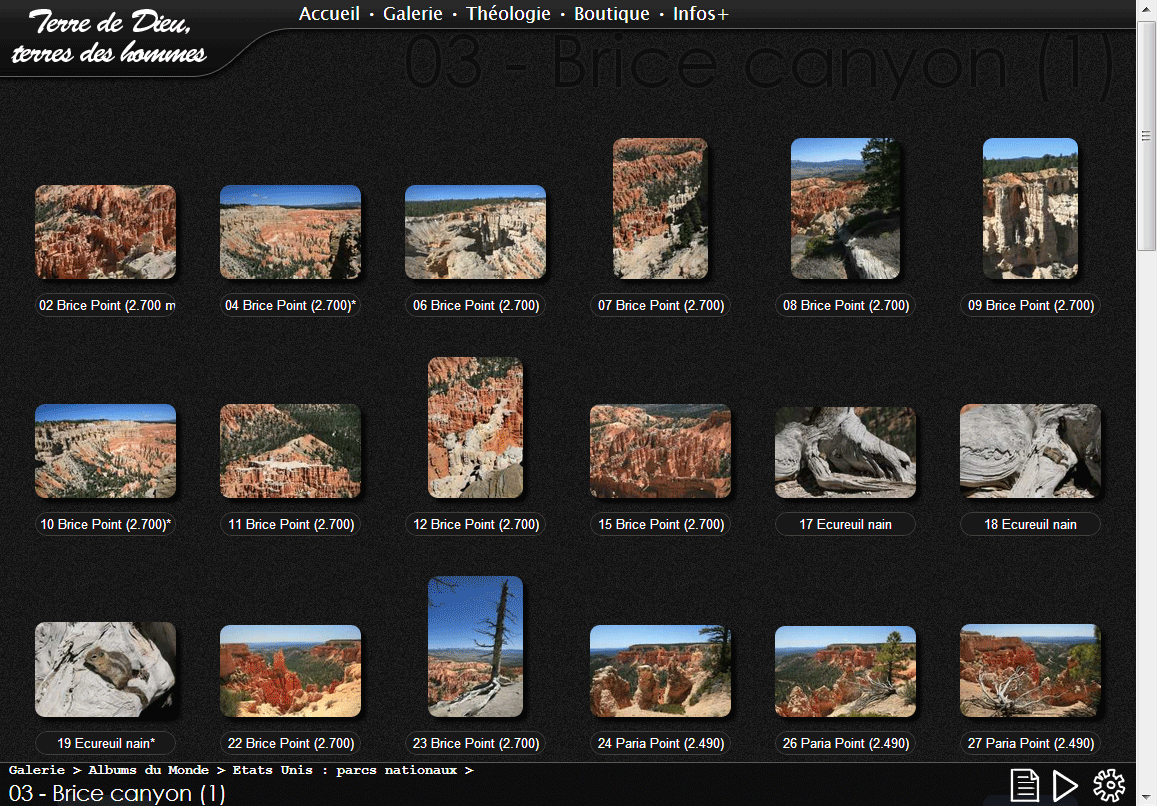 Administration interface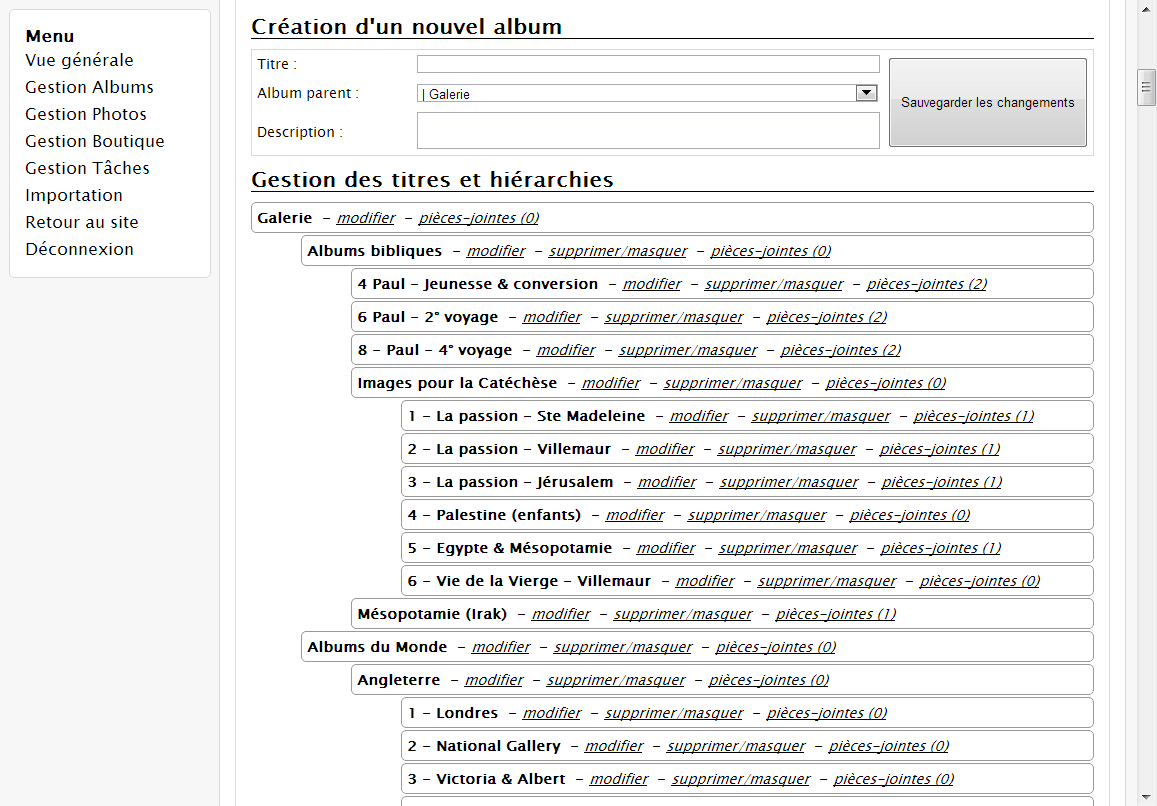 The futur
The gallery is still in development. I am currently (in fact, during the holidays... Already a lot of work during school weeks!) working on the market part. I have also added the possibility to remember which are your favorite photos or albums. And I keep on improving the interface.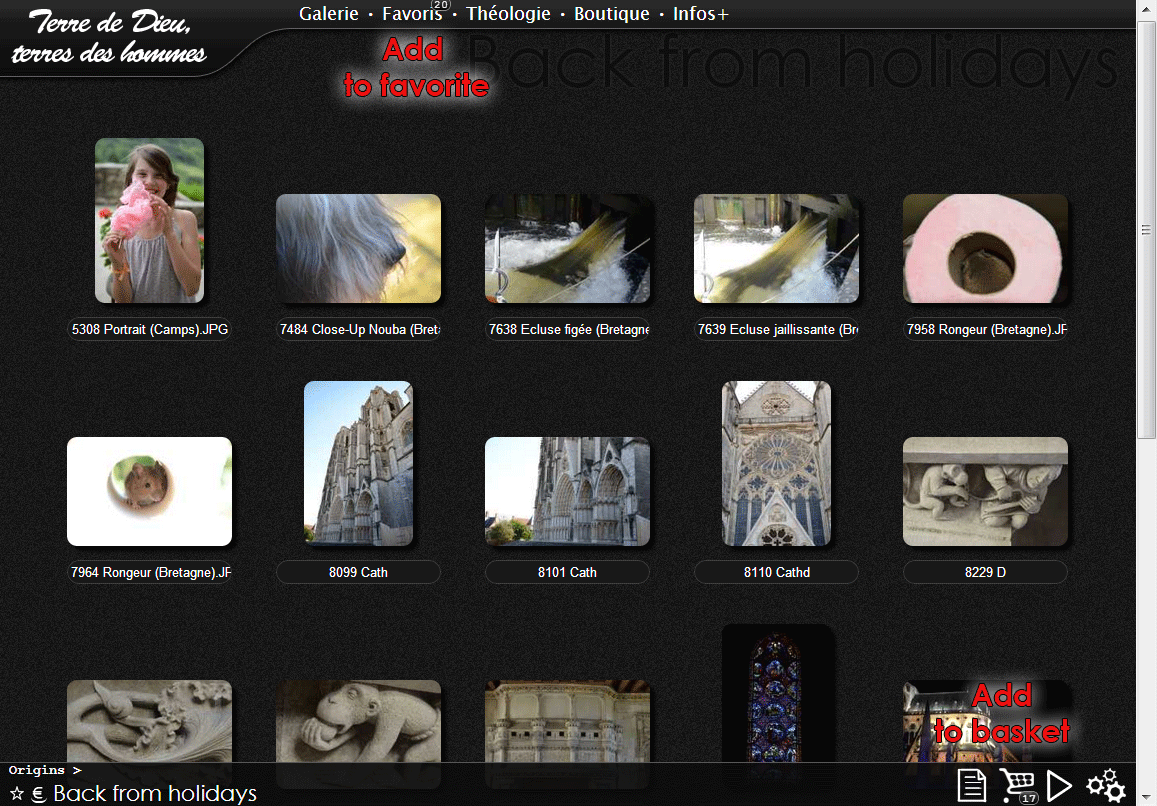 2009 – 2012 | Volunteer camp counselor
Volunteer camp conselor, within various organizations for young people
BAFA certificate holder (Brevet d'Aptitudes aux Fonctions d'Animateur): certificate of the capacity to organize activities for children in holiday centers or leisure centers
Volunteer activity leader in summer camps for 42 young people aged 10-14 with special responsibility over a team of eight young people aged 10-11 (july 2010 & july 2012)
Volunteer moderator of "Cine debate" for 14-15 year olds: choice of films and animation of the discussion with the 30 youths (with two other leaders).
Working with children
Keywords
Team work, Volunteer, Sense of responsability, Imagination, Pleasure, Education, Entertainment
Volunteer camp counselor
When I was young, I had a very good experience with summer camps or discussion groups, driven by volunteers.
Today, I'am pleased to take this role and drive myself children during summer camps. In order to be more efficient in this work, I decided to pass the BAFA: Brevet d'Aptitudes aux Fonctions d'Animateurs. It's a diploma I've obtained by doing a 10 days theoretical formation, a 14 days practical formation, and a 7 days enhanced formation. It confirms my abilities to work with and for children, in order to entertain them, but also educate them.
This a real pleasure for me, but also a very formative function:
I learn how to work in a team, with the other adults. And contrary of most of my scholar projects where I am often the project leader, it is a very good occasion to work under the command of someone else.
It develops my sense of responsibility: as a counselor, I am in charge of a 8 children team.
It develops my imagination: each day, the counselor team must invent new games and new activities.
It's an excellent exercise of socialization: when you spend 17 days with people you have not chosen to live with, you have to adapt your behavior and accept the differences.
Most of the time, living outside develops my suntan!
Above all, it's a real pleasure, making friends from all the France, and putting my talents in the service of others: benefits for everyone!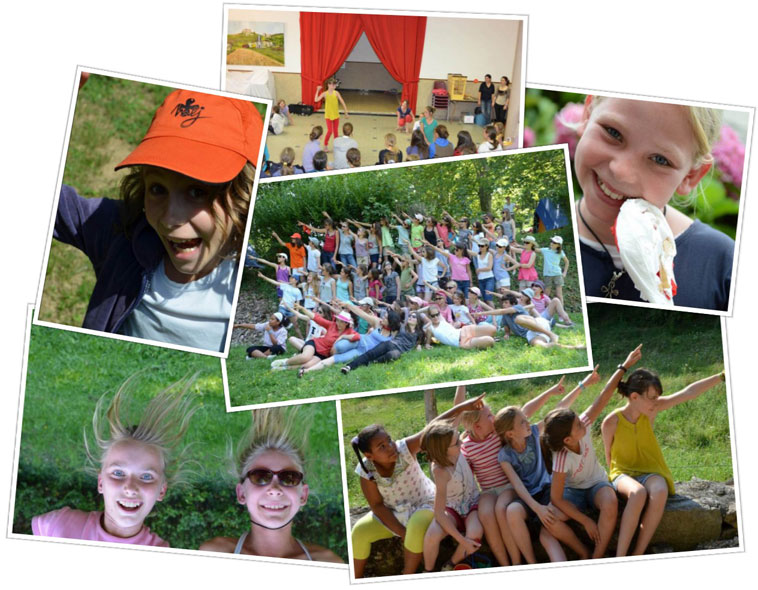 Volunteer moderator of "Cine debate"
Each month, I was choosing a movie with the two other moderators. The idea was to choose recent movies that could interest teenagers, with a strong content in order to start a discussion about it.
Examples of movies:
Welcome to Gattaca, Andrew Niccol
Pay it Forward, Mimi Leder
The Truman Show, Peter Weir
...
Here, developing the critical sense of "my" teenagers, I was also developing mine. I have also developed my ability to construct a debate, organize a discussion. And again, my faculties to work in a team.
2009 – 2013 | Involved in several student organization
Provide help for communication: logos, posters, website
Officialy in charge of the graphical communication of the association of theatre of UTC, Profit'Rôles
Communication for Student Organizations
Keywords
Association, Adapt CMS, Adapt Design, Users formation, New Logo
Profit'Rôles
Presentation
Profit'Rôles is the association of Theatre of UTC. In Autumn 2013, I have been officially recruited to be in charge of the graphical communication. The idea is to find new actors, and to communicate to the students about the association: for example, when will be the next representation.
Poster, Ecocup
I have realized different posters for Profit'Rôle (only 2 are shown below), modernized the logo (the previous one was only existing in a drawn version, not really usable for HD communication), but another important thing has been the ecocup. We have at UTC a place were students can eat and drink, and for the drinking, we have sold ecocup (kind of a plastic glass that you can reuse).
The design of the ecocup was kind of a game, with lot of small drawing aroung the logo of the association. Each scene was in reference with the theatre or with UTC, and the students were invited to search all the ideas behing the scenes.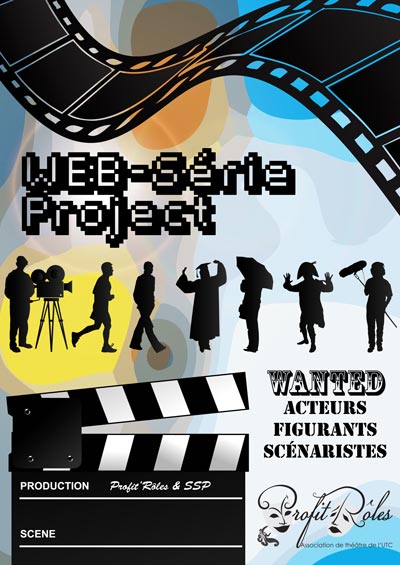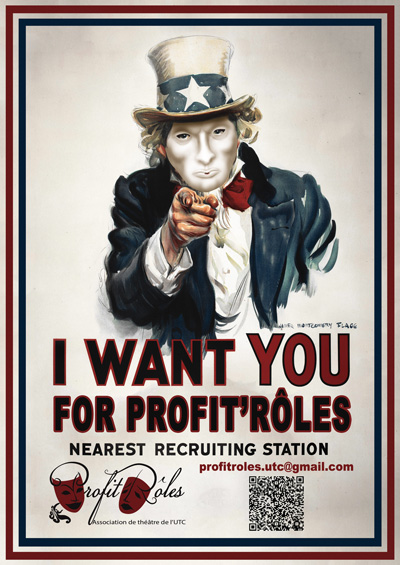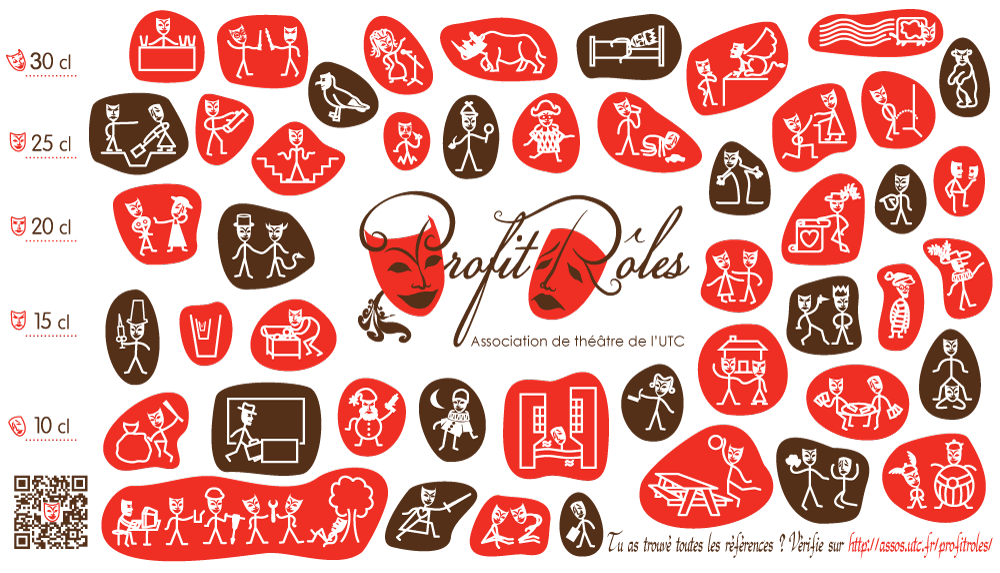 GI
Presentation
The GI is literally the "Génie Informatique" department, meaning the "Computer Engineering" department.
Each year, new sweatshirts are sold by one of our student organizations, with different models for each department. In 2012, my logo has been chosen by the Computer Engineering students among all the other propositions.
Logo
This logo is of course a direct reference to Pac-Man and the ghost, well known game among the "geeks", who are one kind of population in the computer engineering department. But you can also see that Pac-Man is like a G, and the Ghost is like a I... So We have GI...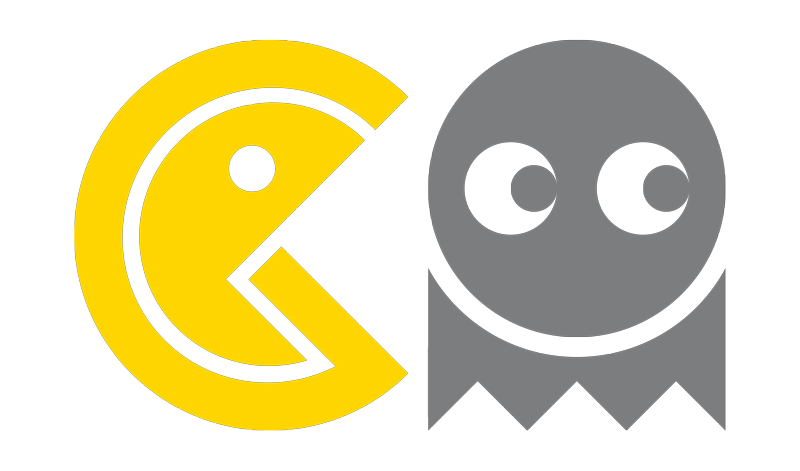 Festupic
Presentation
Festupic is taking care of the organization of a one week long event showing art in the city of Compiegne. Lot of other organizations are involved (like the music organizations or theatre ones). For the 2013 edition, Festupic wanted to renew their image and asked me to create their new logo.
Logo
They wanted a logo with a puppet out of a box, using colors black, red and white. I made this first proposition, reusing the face form their previous logo.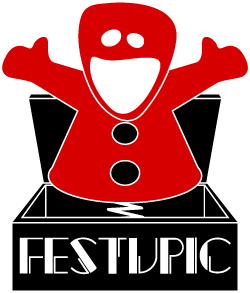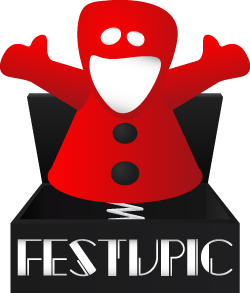 Payutc
Presentation
Payutc is the association which take care of payments for UTC students: we can charge money on our student card, and use the card to pay with it, or to transfer money from student to student.
Logo
I made for them several proposition of logos. They are still studying which logo they will use (note that I do not know if they have other propositions).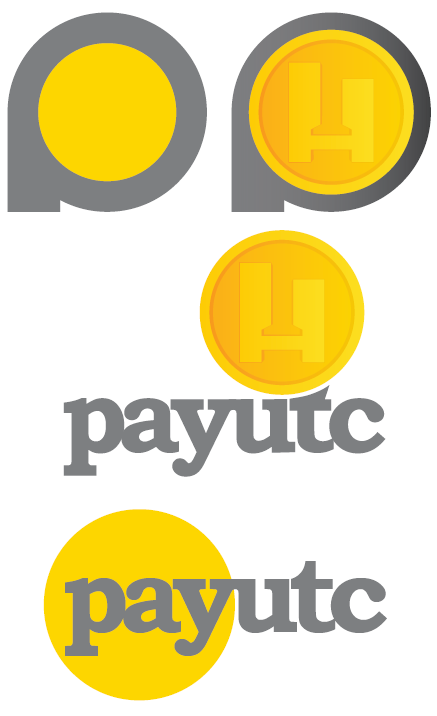 Contact au mali
Presentation
Contact au Mali is an association of students from UTC. The main goal of this association is to help Soufouroulaye, a city in Mali.
This association did not have a webmaster, and was not able to easily present their movement to companies (to raise funds) and other students (to make them aware of the difficulties Mali knows). I accepted to create a website for them.
As you can see, and contrary to my other websites, it has only been question here to adapt a CMS (Content Management System, wikipedia) and adapt its design.
The second part of this work has been to train them to be able to use the CMS (they were clearly not comfortable with computers...).
I have also designed their new logo.
Logo
I made a first proposition, but it was too far from the original logo. The president of the association has considered that it could be confusing for the companies. I finally proposed a modernised version of the old logo, but keeping the same ideas. Finally, the biggest improvement is that now, the logo is vectorised. Before, they only had a 300*200 png logo.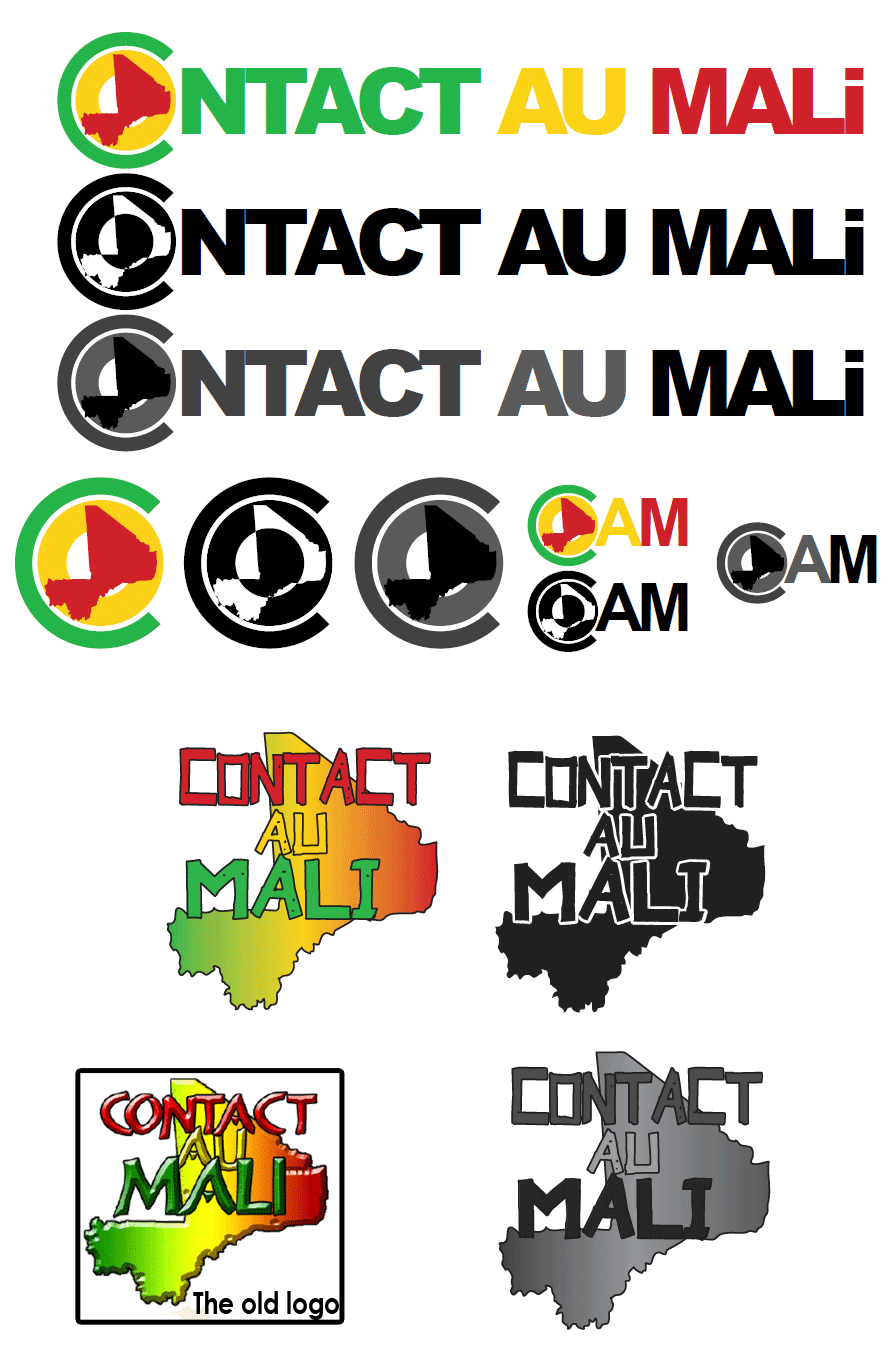 Computer Skills
Software
Algorithms and C language
Object oriented progr. (C++/Java/C#)
Logical progr. (Prolog, Lisp)
Mobile: Android & Windows Phone
Databases
Relational: SQL, MySQL/PgSQL
Triplestore: SPARQL, Virtuoso
Web
xHTML/HTML5/CSS3
JS/jQuery
PHP/ASPN.NET
Various
Virtual Reality (Unity/Virtools)
UML representation
Doc. engineering (DTD/XML/…)
Knowledge Management

Windows

Unix

Network

Maple

VHDL

Assembly...
Beyond lists of computer languages​​, the most important skills that we develop at UTC are the adaptability and the autonomy.
Computer skills and more
The UTC offers to its students to choose which class they will take during the semester. And always, the objective is not to learn a language, but to learn methods and concepts. And sometimes, we learn a language in order to apply the concept we are studying.
The advantages of this method are that we are able to quickly adapt ourselves to any language using the same concepts, and that what we have learnt will not disappear when the language will become obsolete.
Normally, we have to take 6 courses at the same time. But thanks to my initial formation where I have learnt to support a huge amount of work, and because I love what I am studying, I have always taken as many courses as possible, and I have always validated them (with several mentions...).
My ability to organize and plan work is the reason why, in most of my project teams, I have been asked to become theleader, when a leader was needed.
In order to give you the keys to understand what I have studied, I give you below the description of the different courses I have taken, with a link to a complete presentation on the school website.
Autumn 2012
Software technologies for managing corporate knowledge
The goal of the course is to introduce a set of approaches (concepts, tools and methods), used for managing knowledge in a cooperative environment. A particular attention is given to technical and organizational knowledge. The course presentations are based on a knowledge management cycle (identifying, formalizing, distributing, upgrading knowledge), focusing on the formalizing step. 
Virtual reality
RV01 gives the bases of virtual reality and its industrial applications: virtual worlds, digital mock up, immersive systems (HMD, CAVE, reality center, 3D tracking...)
Document engineering and digital asset management
Document engineering aims at the design of systems which allow and optimize technical manipulation along with cultural interpretation of contents. The course deals with the concept of digital document, its instrumentation with XML, the documentary technologies. It bases on a large project for the realization of an XML multimedia publishing chain.
Artificial Intelligence
The UV enables students:
to learn notions and techniques of Artificial Intelligence,
to be familiar with symbolic programming of fonctional type.
Notions and techniques will be presented from applications developed with language LISP.
Computer networks
This course presents computer networks architectures, protocols, and technologies. We present the principles of data communication over wired and wireless medium. We study local and wide area network technologies and their interconnection, and then we study the related protocols. We mainly focus on Internet protocols (IPV4, IPv6, Voice over IP). 
Project Realization
The goal of the credit is to have students participating to the achievement of a project. The project should be under the supervision of one adviser.
For more information about the PR I will do this semester, please read what I have writen about MEMORAe in my "Experience".
Logic : history and formalism
Objectives of this course : to enrich the scientific and philosophic culture through series of fundamental questions: how to formalise human reasoning ? Whta the fitted languages ? What are the relationships between formalisms, those coming from logic itself and those coming from physical and mathematical sciences ? 
Spring 2012
Object-oriented programming and design
Validated with mention
Study and implementation of the different concepts and tools linked to object-oriented programming and design. 
Data bases design
This course objective is to teach students how to design relational and object-relational databases. In order to achieve this objective, the students will develop methodological skills for conceptual and logical modelling, as well as technological skills toward typical DBMS and toward usually used languages.
Operating system : from concepts to programming
First part: fundamentals of operating systems Second part: internal mechanisms (interrupts, virtual memory, OS-hardware interaction, interaction between processes...)
Problem solving and logic programming
The considered approach, fitted for the complex problems with a strong combinatory characteristic, proposes to use methods which builds a solution when solving these problems.
These methods are based on the representation of knowledge and on research technics. Then the formal logic plays an essential part, especially for expressing and validating the reasonnings.
Furthermore, this course presents the main principles of logical programming.
English level III
The aim of the LA 13 course is to develop the student's expression and communication skills in English. He will improve his comprehension of oral English by working on varied audio and video material and improve his writing skills by analysing and producing the types of document required of an engineer. He will develop his ability to put forward arguments and be convincing in interviews, presentations and debates.
Ethics multidisciplinary approach
PH09 on the UTC website (french)
Discussions about the ethics issues our world experiments today.
Cognitive sciences theory : computation
Validated with mention
Introduction to the two main paradigms in cognitive science: the Computational Theory of Mind, and Constructivist Enaction.
Autumn 2011
Algorithm and data structures
Introduction of the basic data structures and of the basic algorithms that manage them.
Economy and quality control
Validated with mention
Quality Management, Design and Quality, Quality Function Deploiment, Functional Analysis, Product Life Cycle Management, Work Breakdown Structure, Standardisation, ISO 9000, Conformity assessment, Engineering economy.
Architecture of a processing element
This course provides the basic elements to understand the architecture of a data processing system. How to chose the implementation: simple hardwired logic or a programmed solution using a microprocessor and its interfaces. The reason behind the success of the Pentium family will be presented too.
Statistical methods for research and manufacturing
Basic concepts and methods of Statistics useful for engineers.
English level II
The course combines group sessions based on a system of projects, which allow the students to develop their skills in oral and written comprehension and expression, and to revise basic grammar, with interviews during which students express their ideas on general themes, or themes linked to professional life in Enlish-speaking countries.
Economics and laws of intellectual property rights
GE28 on the UTC website (french)
Validated with mention
Presentation of the different types of intellectual properties and their consequences in our economic world.
Bottom
Congratulations! You reach the bottom of this section!
I would have never imagined that I have learnt so much in one year and a half...
Other skills / Interest
Project Management
Innovation Marketing
Quality Management
Cognitive Sciences
French: mother tongue
English: level B2 – fluent
Graphic arts: drawing, photography, design, photoshop, illustrator…
Theatre: in charge of graphical communication at Profit'Rôles, Association of Theatre at UTC
Technology aware: daily monitoring of 15 sites dealing with New Technologies
Other skills
Keywords
High-Tech, Discussion, 7-year class representative, Theatre, Photography, Drawing, Design
Presentation
I have different centers of interest. Among the most important, I love everything concerning new technologies. In fact, it is what has motivated me to follow the way where I am: computer engineering. And among my RSS feeds, I count more than fifteen sources speaking about "High-tech" and other geeky subjects...
But hopefully, this is not my only activity. Another thing really important for me is the discussion. I love to discuss about everything,the debates and argumentation. I do not fear to interact with others: when I was younger, I have been during 7 years the class representative, or school representative.
I developed this love for speaking and acting by doing part of Profit'Rôle, the association of theatre of UTC. Particularly, I got the opportunity last year to work with professionals at the Fontainebleau Castle. Our mission was to get back the castle to the 19th century. At this occasion, I have incarnated a photographer, in the first years of the photography.
Photography, which is another passion for me, new born since my client (the photographer for whom I work) offered me a superb camera. Okay, I have to improve myself, but I progress quickly!
Photography is probably one aspect of my "artistic" personality. Another aspect is my taste for drawing. Using a pen or directly working on my graphics tablet, drawing is something I love since I am very young, and I have been trying to improve since the same age. I regularly work for other people, creating logos, flyers, posters or website templates.
And, one day, I hope I would be able to say that I became a good musician: but for now, I only have bought my ukulele, but with so many activities and work, I never find time to use it!
Logos, Flyers, Posters...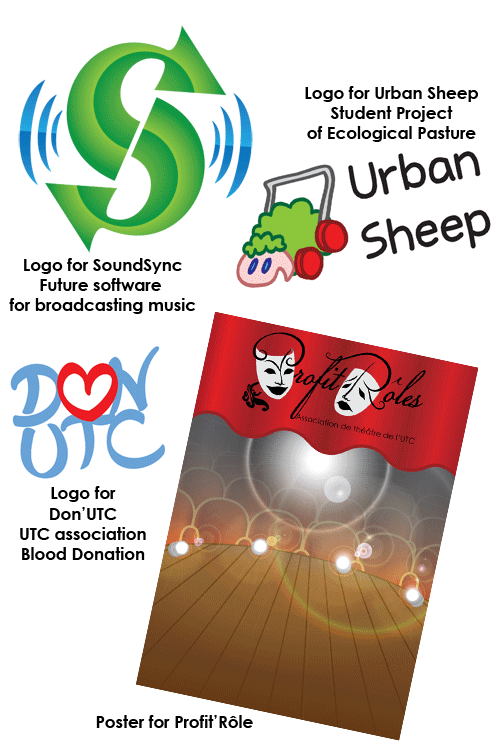 Photos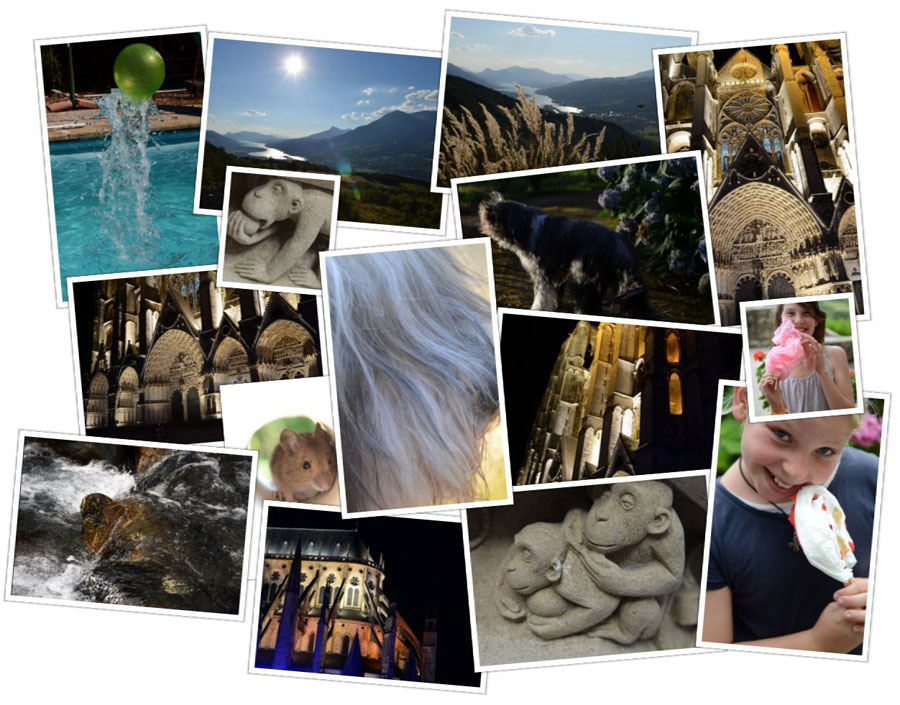 Theatre
Drawing
Here are two drawings of myself... Drawings are not contractuals, the product could be not exactly as shown!

In fact, I wear glasses. And often I wear a hat (but not when I am inside... Do not panic!).